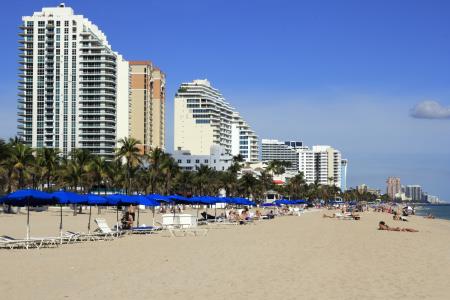 Are you planning your next vacation in Fort Lauderdale? Are you looking for some budget hotels in Fort Lauderdale? Fort Lauderdale is known for the high-end accommodation. People normally think that only wealthy persons can afford to stay in Fort Lauderdale. But in reality, the city has an option for everyone. You will find many popular budget hotels that offer basic needs and improved facilities within your price. If you are looking for such budget hotels in Fort Lauderdale, you can consider the following five.
Our 5 Best Choices for Budget Hotels in Ft Lauderdale, FL
---
Angela's Beach Resort
If you want something different and unique to enjoy your beach life more, you can consider staying in Angela's Beach Resort. It is a family owned property that offers cozy standard hotel rooms, friendly service, a penthouse, and one-bedroom apartments. This hotel has a private deck and swimming pool. All these features make this hotel best for the honeymoon. Transportation to this hotel will also be easy. It is a few miles away from the airport and beaches.
Casitas Coral Ridge
2648 NE 32nd St, Fort Lauderdale, FL 33306
If you want a quality living at an affordable price then Casitas Coral Ridge (formerly Estoril Paradise Inn) is made for you only. Yes, you have heard right. This hotel offers all the world class facilities without hurting your budget. Casitas Coral Ridge has received Superior Small Lodging White Gloves Award for three consecutive years for the friendly service, improved facilities, and immaculate housekeeping. With the accommodation, you can enjoy a short beach walk, water taxi access, a drive to great golf, world-class shopping, and incredible foods.
Premiere Hotel
625 N Fort Lauderdale Beach Blvd, Fort Lauderdale, FL 33304
Premiere Hotel is one of the classic hotels of Florida that exhibits the traditional culture. You will enjoy the sparkling blue water pool and the architecture of the building that gleams white and pastel yellow. If you love traditional beauties and you are planning a traditional vacation, then Premiere hotel will be an ideal choice for you. The location also makes this hotel a preferable accommodation. You will find everything nearby that includes the shops, restaurants, and beaches.
The Bridge at Cordova
1441 Cordova Rd, Fort Lauderdale, FL 33316
If you are looking for a family-friendly environment and a quality stay, you can consider the Bridge at Cordova. This is located just four miles away from the airport. It has a beautiful lobby and boutique-style atmosphere. The hotel gives special attention to every visitor. With the comfortable rooms and suites, you will get a complimentary breakfast. The hotel offers free internet access and cable TV.
Comfort Suites Airport & Cruise Port
191 SW 19th Ct, Dania Beach, FL 33004
Comfort Suites Airport & Cruise Port is one of the popular hotels in Fort Lauderdale. But it is not expensive and can fit into your budget. This hotel is known for improved facilities, world-class rooms, comfort, and affordability. The location also makes it a favorable option. It is just two miles away from the airport and beaches. The rooms of this hotel are equipped with cable TV, internet access, coffee maker, and ironing facilities. In addition, you will have an on-site restaurant, a bar, a whirlpool, and a complimentary breakfast.
All the above five hotels have received good ratings for the comfort, facilities, friendly service, and price. You can choose any of them to make your vacation fun and entertaining. You just need to book the hotels in advance to avoid the last time hassles. If you need to travel as a group then consider renting a charter bus Fort Lauderdale to get around town easily.