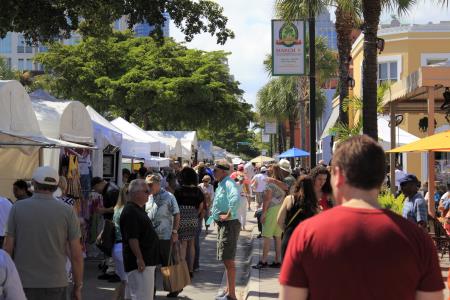 When you are in Fort Lauderdale you can expect to find everything here – from fine restaurants and museums, to gardens and recreational parks. So if you want to experience everything in one single place, then Fort Lauderdale is the place you want to visit! If you have come here on vacation with family then you will find plenty of nice hotels to stay in. Our guide will help you choose better.
Here Are the Best Things to Do in Fort Lauderdale
---
Laffing Matterz
201 SW 5th Ave, Fort Lauderdale, FL 33312
This exclusive dinner theater is a unique experience in itself. It's not just the food that impresses but also the entire ambiance and eating experience. Even most supper clubs fail to offer such well made food. The architecture of the structure is extremely different with an exposed brick facade. In addition there are velvet drapes of a dark blue hue and great seating arrangements via private tables and booths. The theater is replete with actors playing parts of different stereotypical characters of society. If you are looking for a suitable accommodation you can find plenty of Fort Lauderdale, FL hotels nearby. If frugal travel is topmost on your list then Cheap Fort Lauderdale hotels are sure to be found.
Museums and Gardens
900 N Birch Rd, Fort Lauderdale, FL 33304
The Bonnet House Museum and Gardens has many ponds around it surrounded by water lilies. There are also many tropical styled gardens located around this plantation style locale. The waterfront home is beautiful and tastefully decorated. It is exquisite and artistic both inside as well as outside. This historic home is a great place to visit with both family and friends. If you wish to stay somewhere close to the airport then the Fort Lauderdale airport hotel is a good option for you. If you want to live in style and yet within budget then you can avail some Cheap rooms at the Renaissance Hotel. These are cheaper than expected.
Interactive Science Museums
401 SW 2nd St, Fort Lauderdale, FL 33312
The Museum of Discovery and Science and IMAX 3D Theater is appealing to kids as well as adults alike. It is a great way to learn while having fun and it even has a separate section for kids less than 7 years of age to learn and interact as well as discover new things. It even has an option for stargazing what with its powerful telescopes. There are plenty of science films available for viewing inside the IMAX Theater. So if you want your kids to learn new and interesting things while having fun too, make sure to bring them along here! If you are looking for a frugal way to travel there are plenty of Discount rates at the riverside hotel. If it's a weekend you're planning a vacation in, then you can avail plenty of Fort Lauderdale Vacation getaways at discounted rates!
Las Olas Boulevard
The Las Olas Boulevard is a great change if you wish to get away from all those super sized malls. Once here, you will find a wide variety of restaurants as well as boutiques. There are also plenty of sidewalk cafes which are great to just sit and relax in. There are plenty of Fort Lauderdale beach hotels if you wish for a seaside view. Similarly there are many oceanfront hotels easily available too. If you hate leaving your pet behind the variety of Pet friendly hotels in Fort Lauderdale can be a good option for you. Fort Lauderdale is so lovely that you might just wish for an extended stay. In such cases Fort Lauderdale extended stay motels are a great choice!
Once you've found something fun to do in the city hire our limo service Fort Lauderdale for your perfect night out!