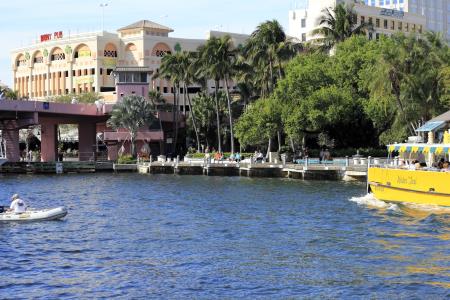 Food is something which is cherished by all and everyone is picky when it comes to choosing good place to eat. When it comes to good restaurants, Miami has plenty of places to offer but that doesn't mean Fort Lauderdale is anyway behind. Fort Lauderdale has many good eateries and restaurants to satisfy your taste buds and cravings. While selecting a restaurant there are many things which you must consider like hygiene, quality of food, ambience, music, environment, etc. Keeping all these in mind we have shortlisted best restaurants in Fort Lauderdale.
Our list of the 5 Best Restaurants in Ft Lauderdale
---
Chow
It is an initiative of Creative Kitchen. This American-Asian fusion restaurant is located in Downtown Fort Lauderdale. Inside its cool farmhouse-type dining room, they serve you an authentic platter of barbecue and sushi. There is a hidden bar counter located upstairs where they serve crafty cocktails.
Mermaid Bar
2442 E Sunrise Blvd, Uppr Level, Fort Lauderdale, FL 33304
Shopping can make you hungry and eating experience in malls is usually boring and dull. The Mermaid Bar in Fort Lauderdale has something different to offer. Established in the year 2013, the restaurant servers a variety of sandwiches, homemade desserts, salads and lots of other specialty items. The restaurant is open till 8 pm. They offer a wide variety of menu which is sure to fulfill your entire spectrum of appetite. In case you are health conscious, they also provide all the nutritional information of their dishes. For example, their salmon green goddess, which is a salad made from cucumber, asparagus, greens, egg, tomato, avocado and topped with light green dressing contains 530 calories. When you visit Mermaid, Bar make sure you try their famous Crab Loui, Portobello mushroom and roast Turkey Italian melt sandwiches. The eatery is situated inside Galleria Mall in Neiman Marcus.
The Keg on Sixth
Situated on the main road among cheap motels, auto repair shops and warehouses, The Keg on Sixth is not a place where most of the people of Fort Lauderdale usually hangout, and that is a good thing if you are looking for a quiet place with tasty food. They offer the best beer in south Broward county. Their menu consists of assortment of dishes ranging from burgers and pork-belly sliders to curried cauliflower and salads. The restaurant has an urban industrial vibe which comes from its graffiti murals painted by the local artists. It is a cool underground spot.
Fork & Balls
As the name suggests, the restaurant specializes in making balls. The inspiration of this eatery came from the Meatball Shop which is located in New York. This classy bar is almost always packed with a wide mix of customers who love to suck down drinks and hog on meatballs. The restaurant offers composed and customizable dishes at reasonable price. For just $8, you can get "Just Balls" which consists of 3 meatballs (with the option of spicy pork, veggie or classic beef).
The Riverside Market Café
608 SW 12th Ave, Fort Lauderdale, FL 33312
The Riverside Market Café is a favorite spot for the locals as it offers comfy couches, small digital menu accompanied by tap brews, specialty sodas and wine. It is located on 608 SW 12th Avenue.
These restaurants are sure to satisfy the cravings of your taste buds. We advise you visit all of them as each one of them has something different to offer. Want to hire one of our luxurious limos to take you to one of these locales? Click here!