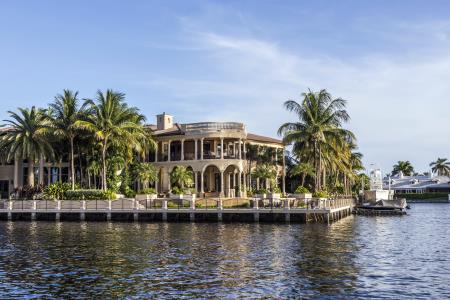 Commonly referred to as the 'Venice of America', Fort Lauderdale has some of the finest beaches in America. It is located in the east of Broward County, about 23 miles from Miami. Blessed with rich natural beauty, semi-tropical climate and nice entertainment facilities, this city is one of the top tourist destinations in America. In addition to being a prominent tourist attraction, Fort Lauderdale is home to a number of famous people who have excelled in various fields, such as sports, music, modeling, and acting. Let us take a closer look at these personalities.
Famous People from Fort Lauderdale, FL
---
Tiffany Fallon
Born in Fort Lauderdale, Florida, Tiffany is a popular American model. She was photographed for Playboy in 2004 and emerged as the Playmate of the Month in December 2014. She also became the Playmate of the Year in 2005. Besides being with Playboy, Tiffany worked as a cheerleader for the mighty Atlanta Falcons. In 2001, she became Miss Georgia and emerged second runner up for Miss USA.
David Cassidy
David Bruce Cassidy is a retired actor, guitarist, singer and songwriter. In the 1970s, he played the role of Keith Partridge, Shirley Partridge's son, in a musical-sitcom called The Partridge Family. Due to this, he became a great pop culture's teen idol and pop singer during that time. He later pursued both music and acting careers. Cassidy moved to Fort Lauderdale in 2002 and has lived there since then.
Hélio Castro-Neves
Hélio is an auto racing driver of Brazilian descent who competes in the IndyCar Series. He boasts 23 wins and 38 pole positions in this competition alone. Before the IndyCar Series, Castroneves participated in the CART competition. He won the Indianapolis 500 three times; in 2001, 2002 and 2009. He also emerged second at the 2003 and 2014 Indy competitions. Castroneves has won 4 poles for the Indy 500. He lives in Fort Lauderdale with his wife Adriana and daughter Mikaella.
Catherine Hickland
Catherine Hickland is a television, film and stage actress; author, singer and CEO of a cosmetics-company. She began her television acting career in 1978, featuring in guest roles on a number of series before getting a recurring role on Dallas, where she acted as Courtney Marshall between 1980 and 1981. Catherine also played supporting roles in The Last Married Couple in America, Witchery and Ghost Town. She was born and brought up in Fort Lauderdale.
James A. Dallas
James "Jimmie" Dallas, Sr. was an educator, entrepreneur, civic leader and musical patron from Fort Lauderdale. He was the first ever American man of African descent to have a Fort Lauderdale street named after him. Dallas taught English and public speaking for 36 years in Miami Dade and Broward Counties before retiring in 1982. His business ventures included a grocery store, pest control business and two nightclubs. Dallas was a member and leader of Kappa Alpha Psi, Fort Lauderdale Alumni chapter. He also recruited to the city some of the most prominent African-American leaders.
These are just a few of the many famous personalities in Fort Lauderdale. They have played a role in marketing the city as it is often associated with them. You too can feel like a celebrity when you rent a party bus Fort Lauderdale.