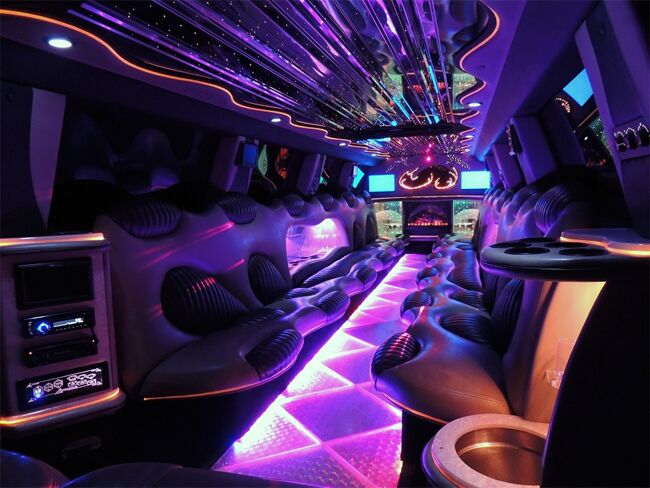 The Hummer Limousine is one of those limo for when nothing else will do but the exotic. Pull up in the H2 Hummer Limo and you sure are to turn heads and become the center of attention.
If you need to attend Prom night, a Bachelor party, Bachelorette party, or simply just having a night out on the town and you need to do it in style then look no further. This exotic hummer limo will get you there and back while accentuating your personality as a person who deserve VIP treatment.
With a fully complimentary and a state of the art entertainment system that includes multiple flat panel TV screens and DVD player, you are sure to get the party started long before you reach your destination. Traveling from Orlando to Miami transportation? Look no further than our limo rentals that will take you from destination A to B – in style!
Hummer Limousines
In order to get the best quality vehicles, it's important that you book your vehicle well in advance (at least two or three weeks before time). The earlier the better. Try to get the best bang for your buck. You can ask for quotes from different companies and then compare them. It is also important that you follow up with the company after making an initial contact. Some companies might not respond to you immediately and that means that they are not a good choice!
However, there are some general questions that you must ask when booking your Hummer Limousine:
Are there any additional charges? What kind of additional charges? Is there a minimum number of hours for rent? If so, how many hours is this minimum number? How much does it cost if I exceed the limit set by the company? Does the company offer hourly or daily packages
Also make sure that you have all your information ready before calling or e-mailing anyone! This will save you some time!
Hummer Limo Services
The H2 Hummer is the hottest limousine to rent within the SUV class. This limousine attracts major attention than any other car to roll down the street.
The H2 Hummer can accommodate up to 20 passengers and is the perfect limousine for Bachelor/Bachelorette parties, weddings, proms, night on the towns and sporting events. Common features for the H2 are Neon Lights / Fiber Optic Lights / Laser Show / Stereo w / CD Player / DVD player / 7 Flat Screen Televisions Wet Bar. These limos will travel within the state of Florida and surrounding areas such as Holden, Miami, Key West, and Tampa.
Ftlauderdalelimo.com services all types events, from weddings to corporate events, and everything in-between! From South Beach to Tallahassee, we service the entire state of Florida. With a wide variety of rentals vehicles available, travel stress free with our premiere group transportation services in the following cities: Doral, FL, Tallahassee, FL, Four Corners, FL, Cutler Bay, FL, Port St Lucie, FL, and Navarre, FL.
What is a Hummer limousine?
Maybe you've seen them while driving on the road or even at a red-carpet event. Hummer limos have gained popularity over the years as more people realize that they are available for rent — and affordable.
Hummer limos are great for large groups of people attending big events, such as weddings, birthdays, proms, charity events, etc.
Hummer Limousines – perfect for company parties.
It is pretty hard to imagine a party without music. From the moment you board your Hummer Limousine until the time you reach your destination, the driver will play some soothing music that will keep the party mood going. If you have anything specific in mind, feel free to ask him and make sure that he plays it for you.
The Hummer Limousines can also be furnished with a bar stocked with drinks of your choice. This way, everyone gets to relax and enjoy their drinks in peace as well as safety.
Hummer Limousines – great for many events.
Hummer Limousines are great for many occasions, such as:
Weddings
Proms and other school dances
Birthday parties
Casino runs and nights at the track
Concerts and performances
Nights on the town with friends or significant others
Sporting events, both local and out of town games
Bar mitzvahs and bat mitzvahs
Bachelor/bachelorette parties * Corporate events * Casino night fundraisers!
Hummer Limousines – would make any special occasion memorable.
The Hummer limousines are considered to be the ultimate in luxury transportation. These vehicles are also called as the H2 & H3 limos because they are manufactured by General Motors, who also produces Hummer SUVs.
They can seat up to twenty-six passengers and feature amenities like TVs, DVD players, karaoke machines and wet bars.
These vehicles would make any special occasion memorable and more comfortable. They are great for birthdays, weddings, bachelorette parties, bachelor parties, sporting events or a night out on the town. They offer many features like flatscreens TV's with DVD players. iPod hookups surround sound systems with subwoofers etc…Most of these Hummer stretch limos feature fiber optic lighting kits which lights up the ceiling and floors of your vehicle to create a nightclub atmosphere that is perfect for bachelor/ette parties or just a night on the town with friends.