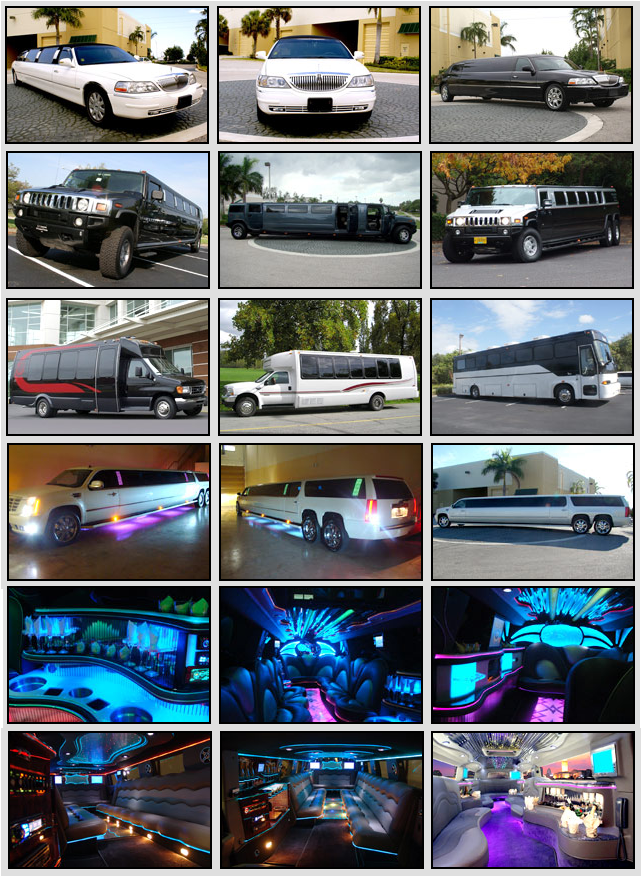 Limo Service Boca Raton, FL wants to be your number one transportation provider. We offer limousine service, party buses, van service, and airport shuttles. We cater to Weddings, Proms, Birthdays, and more! We have been serving the South Florida for over 5 years, with over 20 years of transportation experience. Call now (954) 828-0219!
Book your limo service Boca Raton FL reservation to and from the airport, proms, weddings and other events. Our knowledgeable dispatch coordinators will help you plan your transportation needs with our unique limousine service in Boca Raton. We provide sedans, stretch limos and party buses for all events.
Our chauffeurs are on call 24 hours a day 7 days a week ready to transport you to any location. Our stress free shuttles will pick you up at the airport and bring you to your hotel or vacation spot in comfort and style. No need to worry about car seats we offer child seats & booster seats as well as handicap access vehicles. Let us take care of all your travel needs in Boca Raton for weddings, proms, airports & any social event!

Limo Service Boca Raton, FL
Are you planning to ride reserve a limo? If so, we just have the most amazing line of limousines for you. Pick the one you like and enjoy the service. Here you can find the best price for a rental.

Boca Raton is one of the wealthiest communities in South Florida. It is known for being a business center. For that reason, the city's daytime population increases by a considerable number. If you are in the city on a business trip, enjoy the limo service in style.
In addition to limousines, we also offer corporate charter buses in Boca Raton for your convenience.
Limo Service Boca Raton FL
We are here to help you with all your transportation needs. Whether it is airport limo rentals or a special occasion, we can get you where you need to be on-time and in style! We have an extensive fleet that can accommodate any need. You will always arrive on time and in comfort for your next flight!
Don't let anything stop you from getting where you want to go. Rent one of our Boca Raton FL limos today!
Limousine Rental
You can get a quote for your preferred limousine in seconds. Just enter the date, time and mention how many people will be traveling. You will get the service right away. You may be in town for vacation or in a business call. To roam around the city in style, you need a limo. The transportation service you choose has to be reliable, stylish and affordable. We ensure all these three. There are in fact many diverse transport services to choose from. But if you want to ride in class, then limo service Boca Raton is the one for you.
Our chauffeurs know how to take good care of you. You will enjoy the personalized service for any occasion.
If you have questions, give us a call at (954) 828-0219.
Attractions
Boca Raton is the southernmost city in Palm Beach County, Florida. There are many attractions in the city, offering fun for everyone. Our transportation services can show you all of these attractions. Qualified chauffeurs know where to take you! Depending on your mood, you can go to any of these places. If you want to relax, that can be organized as well. Here are the top attractions:
Sugar Sand Park – A great place to enjoy
Gumbo Limbo Nature Center – You must visit this place if you are close to nature
The Wick Theatre & Costume Museum – Good place for museum lovers
Boca Raton Museum of Art – Another good place for people interested in art and craft
Children's Science Explorium – You your children are accompanying you then this is a great place to visit
South Inlet Park Beach – Best option for relaxing
FAU Stadium – if a game is on, don't miss it.
Mizner Park Cultural Arts Center – if you are into cultural things, visit this place and enjoy the art.
Airport Transportation
We offer limo transfers to both Palm Beach International Airport and Fort Lauderdale-Hollywood International Airport.
Both airports are roughly 26 miles away from Boca Raton. If you want to be picked up from the airport, you can choose a limo rental Boca Raton. The vehicle will get you to where you want to be. It is very easy to book a limousine from your smart phone or computer. And if you need it on a quick notice, just call the customer service experts. They will take care of it.
What are the Benefits of Limo Service Boca Raton, FL
Comfort and Convenience. From large groups of families to business groups, our fleet of Boca Raton limousines are designed with your comfort in mind. Our entire fleet is equipped with state-of-the-art communication systems for reliable and convenient transportation service in Boca Raton. No matter what the occasion may be we offer limosservices in Boca Raton that include: Airport Transportation Limos
Booking your limo Boca Raton FL reservation
You will find the best luxury service in the city with limo rental Boca Raton FL. Select the one that suits you from the large fleet. All the vehicles are designed to satisfy you. Book your preferred limo ride by calling on in the internet. Just state the limo you want and the date. The helpful and efficient customer service personnel will take the reservation.
If you need a ride to Boca Raton FL from Deerfield Beach, Pompano Beach Highlands, Lighthouse Point, Sandalfoot Cove, Kings Point, Delray Beach, Pompano Beach, Coconut Creek, Parkland, Margate, Boynton Beach or, North Andrews Gardens, we have you covered. Read more about limousine services in Boca Raton.
A limo service is a great way to travel in luxury. Whether you are celebrating with a special occasion or just want to enjoy a special night out, a limo service can help you get around town in comfort and style. A limo services company can provide a wide range of vehicles for your needs, from luxury sedans to stretch limousines. With their expert drivers and stylish vehicles, they can make your trip one that you will never forget.
Limo Service Boca Raton FL, Limousine Rental Prices Boca Raton, Limousine Service Boca Raton FL, Limo Rental Boca Raton Florida, Boca Raton Airport Transportation are all offered by FTL Limos.
For a limo service in Boca Raton FL , click on the Book Now button at our homepage and you will be able to put your preferences in for your limousine rental in boca raton.
Your limo service boca raton fl ride can be paid for on our website or over the phone by calling one of our representatives.

---
About the City
Some of the best restaurants in South Florida are right around the corner from Lynn University, several of them less than a mile from campus. And for those of you who like to shop till you drop, the Town Center Mall features approximately 220 specialty stores and is just a mile-and-a-half from campus. Another close area is Mizner Park, a place that contains several restaurants, boutiques, an art museum (The Boca Raton Museum of Art) and an amphitheater for concerts.
Also a hop, skip and a jump from Lynn are Sawgrass Mills Mall, the largest mall in South Florida, and the famed Worth Avenue of Palm Beach.
For active, outdoor sports enthusiasts, Limo Service Boca Raton offers some of the finest participant and spectator venues in all of Florida.
Close to campus are more than 27 local parks and two-and-a-half miles of sandy public beaches. Some of the most notable of these city parks are Patch Reef Park, Memorial Park, Spanish River Park and Red Reef Park, with a nearby reef that is a particular favorite among snorkel enthusiasts. Let Limo Service Boca Raton take you to any destination of your choice.
You also can partake in deep-sea fishing excursions or a variety of water sports, from jet skiing to parasailing. South Florida also has a variety of spectator sport possibilities. Lynn University students can catch a Florida Marlins baseball game at Pro Player Stadium or enjoy a Miami Dolphins football game.
Students also may take in a Miami Heat basketball game at the American Airlines Arena or watch the Florida Panthers play hockey. Whether you need to book wedding limousine rental, sightseeing tours, airport transfers, corporate transportation services, or any other service, we can satisfy your needs.
Related pages include limo service Deerfield Beach and limo service West Palm Beach.
Ftlauderdalelimo.com services all types events, from weddings to corporate events, and everything in-between! From South Beach to Tallahassee, we service the entire state of Florida. With a wide variety of rentals vehicles available, travel stress free with our premiere group transportation services in the following cities: Cutler Bay, FL, Kendale Lakes, FL, Palm Coast, FL, Greenacres, FL, Sanford, FL, and North Miami Beach, FL.